Ghana
Image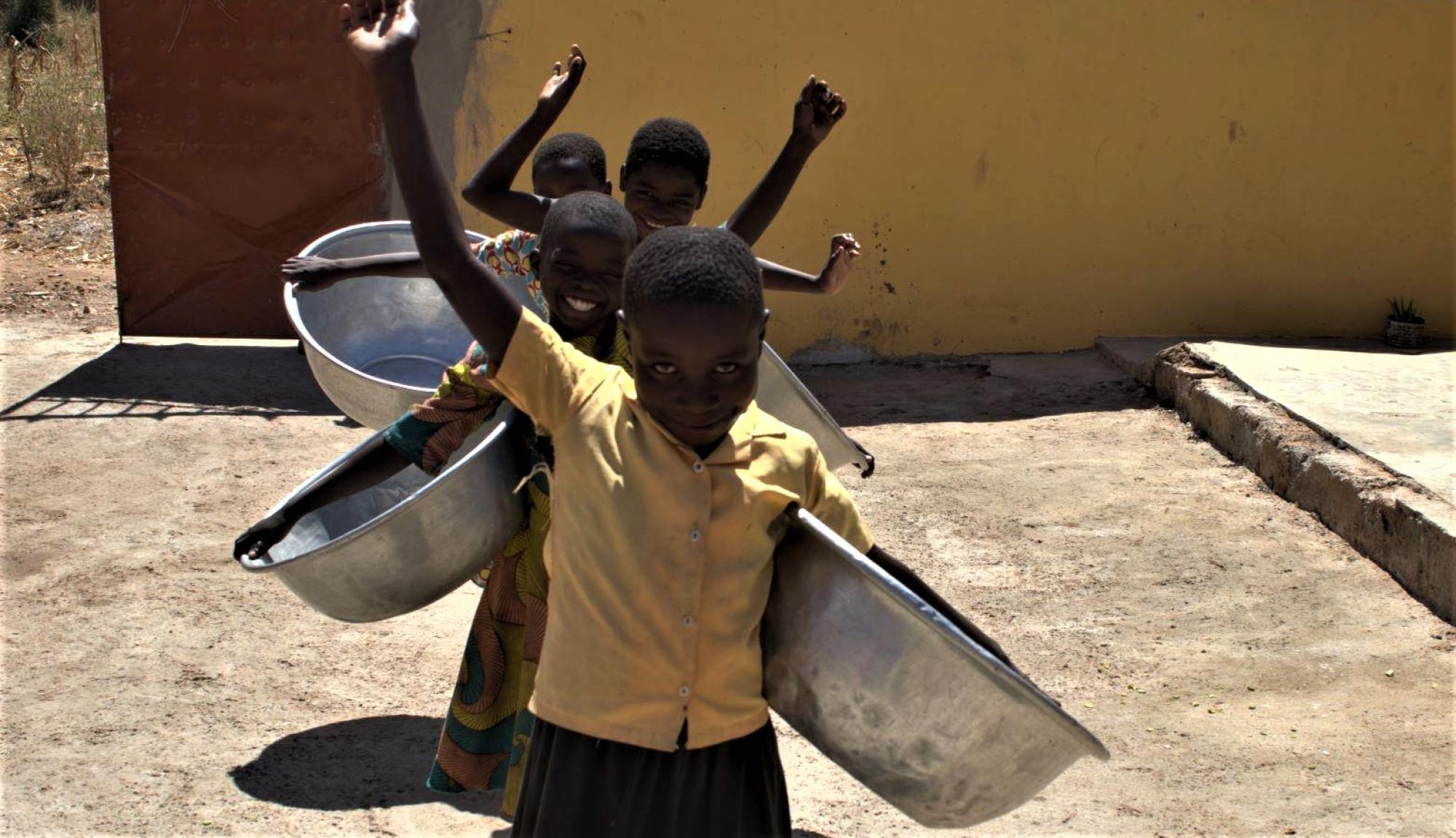 Our history in Ghana
In Ghana, we have been serving vulnerable populations since 1948.  We founded two major hospitals in Berekum and Techiman, the Holy Family Hospitals, which continue to serve local populations today, now under Sunyani and Techiman diocesan administration respectively. 
Currently, we remain involved in leading roles in Techiman Holy Family Hospital, a 300-bed facility offering many specialised services. It is a 'go-to' hospital where visitors go to learn.
Focus of our mission in Ghana
Involvement in delivering quality healthcare at Techiman Holy Family Hospital;
Extending healthcare delivery through an integrated approach in Kulmasa, Northern Ghana;
Empowerment of women and youth in Kulmasa and environs;
Teaching at a local girls' school; and
Professional singing.
Holy Family Hospital Techiman today
There are three Medical Mission Sisters involved in Holy Family Hospital Techiman today.
Sister Catherine is the Head of Nursing, Sister Ursula Maier is a Paediatric Neurologist and Sister Justina Kuumwaar is a Nurse.
Sister Vivian Ogechi Achebe is involved full time in our Medimis pharmacy, where we offer quality and affordable pharmaceuticals to all.  The pharmacy team was kept very busy making liquid soap and hand sanitiser during the pandemic. 
Image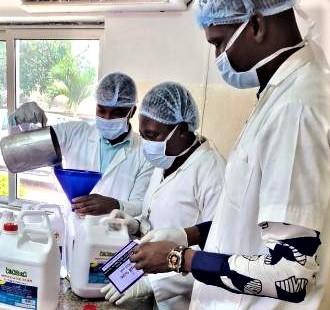 Image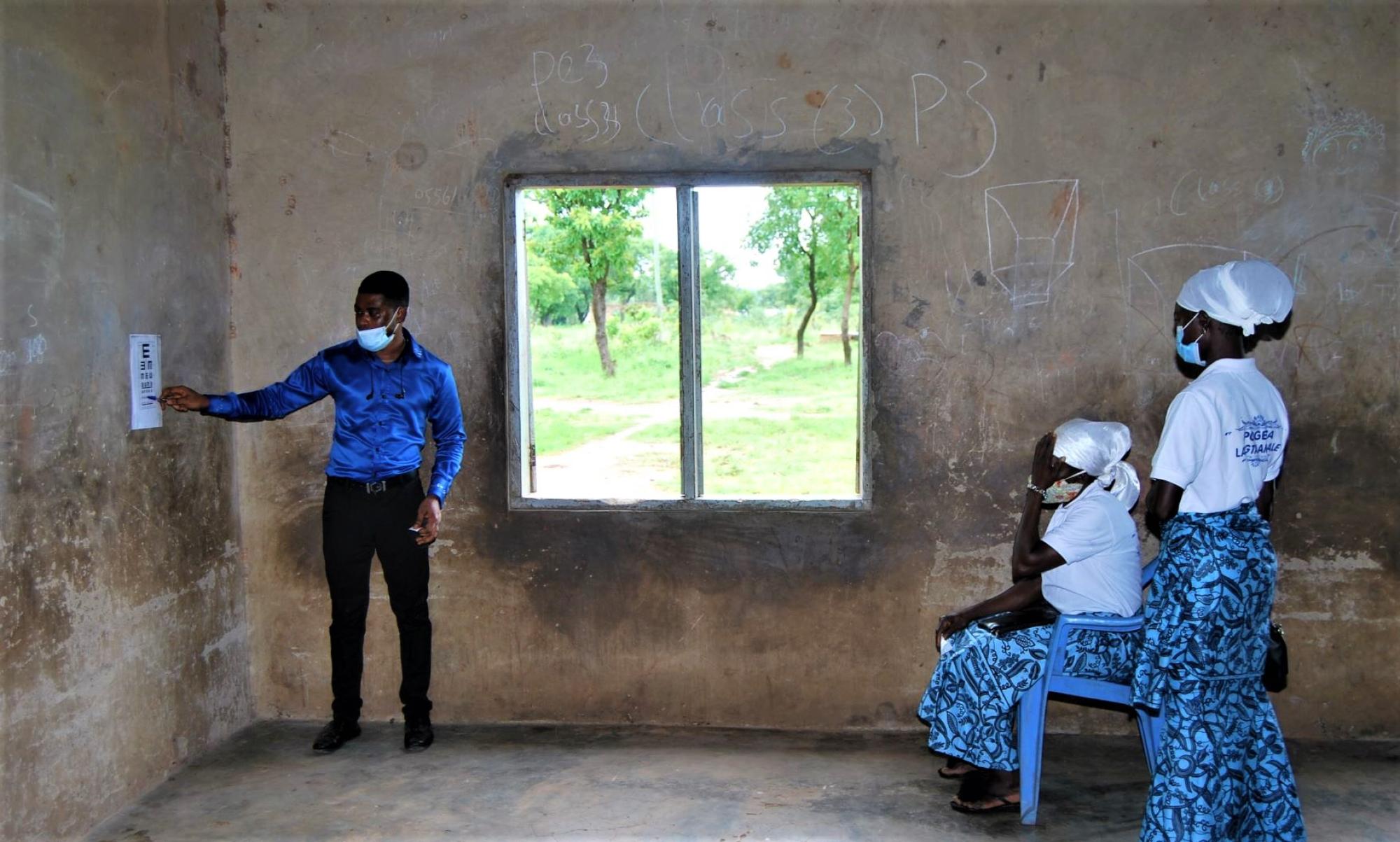 Extending our healthcare mission to Kulmasa in Northern Ghana
In October 2020, we extended our healthcare mission in Ghana, West Africa, to Kulmasa in the north of the country.  Sister Rita Amponsaa and Sister Jane Frances Suglo moved to this neglected, underserved region where we are planning to construct and set up a polyclinic to serve the local population in future years.
In the meantime, we are delivering a public health programme, comprising a range of quality health education services designed to improve the health and well-being of rural, often hard-to-reach populations.
In particular, we are offering:
Ante-natal care to women in the villages to reduce the risk of complications during pregnancy and stillbirths;

Nutrition programmes for malnourished children;

Rights to access services by children with disabilities; and

Prevention of the risks of COVID-19 within vulnerable communities, ensuring information about essential social distancing and handwashing reaches hard-to-reach households, many of whom are headed by women and girls.
Image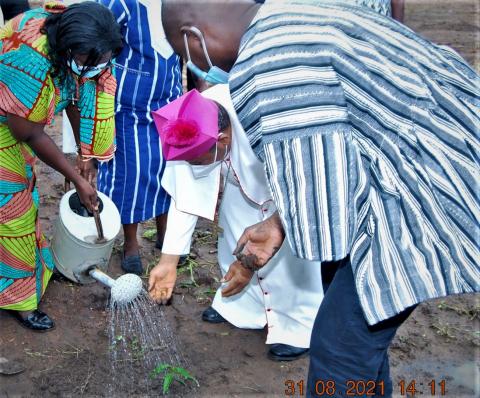 Image

Image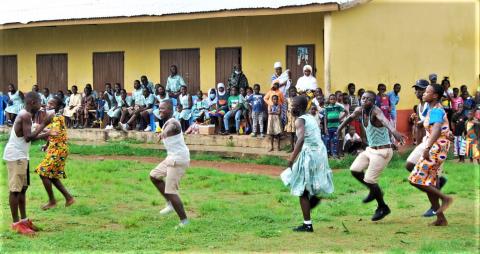 Drilling the first borehole on our land
A generous grant from the Conrad N. Hilton Fund for Sisters has enabled us to drill a first borehole on our land in Kulmasa. 
We are delighted to report that at the second attempt, the hydrologist found a source of water, which will supply the eco-farm that we are developing with 7,200 litres of water per hour.  This came as a big surprise in a village where people have been struggling for water for years. 
We look forward to using our new solar-powered, mechanised well soon. 
Image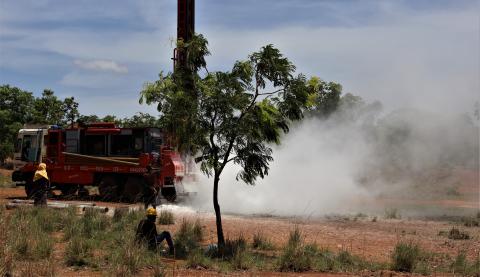 Image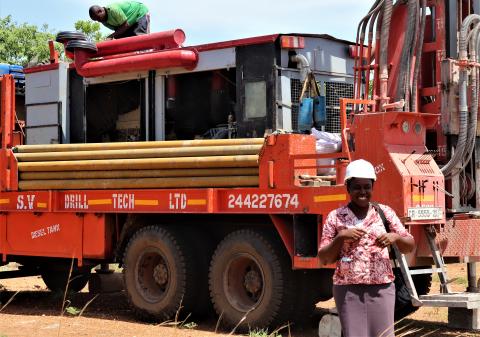 Launch of the MMS Public Health Programme in and around Kulmasa
On 31st August 2021, we invited a wide spectrum of local guests to join us for the official launch of our new new public health programme.  
Sister Rita Amponsaa writes: "It was a very beautiful day despite rains and lights off. We had no lights for four days and nights leading to the 31st!  The enthusiasm of the people, who together with their chief and elders, defied the rains and paid keen attention throughout the programme was very encouraging. The day before the launch, we were invited to receive a big bull as a gift from the chief and elders which we prepared and shared in a meal with our guests the next day.
Most of the important stakeholders, who we invited, honoured our invitation: In particular: Bishop Peter Paul; the Regional and District Health Directors and their teams; the National Catholic Secretariat; priests and other religious; our sister health facilities; our advisory board members; our building consultants; friends from from Holy Family Hospital Techiman; and many local people. All stayed to the very end and we felt quite overwhelmed.
Our building consultants had prepared a 3-D presentation of the future constructions - with particular emphasis on the polyclinic. Despite a few technical hitches, the chiefs and elders were the first to clap, hearing about our future plans.
The staff of the local health facility, here in Kulmasa, graciously accepted to help us run the free health screening for a day, joined by a team of three from Holy Family Hospital Techiman, who carried out an eye screening. Even with the heavy rains, many people queued to access the health screening. 
Neither were the school children left out... They worked so hard to help us set up the celebration and some of them entertained us with dance during the programme. 
The Women's Empowerment Group members looked very colourful in their new clothes and were officially inaugurated and blessed by Sister Colette, Sister Jane and the Bishop respectively."
Image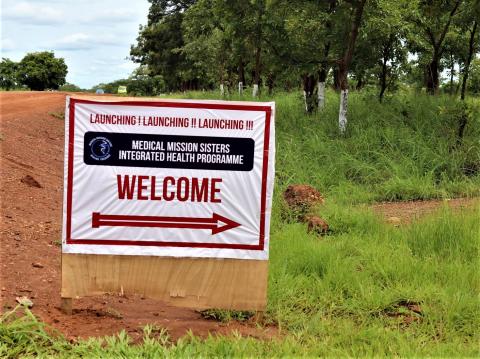 Image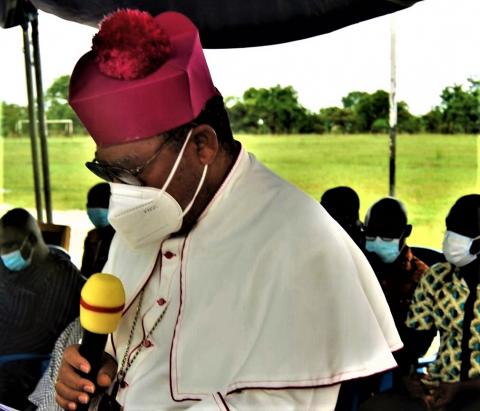 Image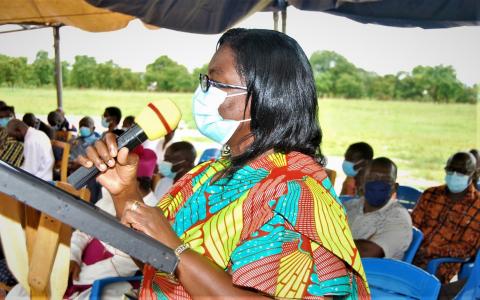 Women's empowerment projects in Sunyani and Kulmasa
We are also supporting Kulmasa's women's group to engage in soap-making to meet household needs and generate household income. This group has been inspired by a flourishing women's group, pioneered by Sister Colette Beru in Sunyani, where local women engage in soap-making, batik clothing production and other enterprise.
We are also seeking - for the future - to involve Kulmasa's women's group in future preparation of Weanimix, a food product made of roasted and ground maize, beans and groundnuts, which is stirred into a porridge. Weanimix was introduced by the Ghana Ministry of Health and UNICEF Ghana in 1987 to fight severe child malnutrition and has become one of the traditional foods, used by mothers when weaning their children off breast milk. Eaten by adults, too, this nutritionally balanced food can also benefit older and vulnerable people. 
The Weanimix project is designed  to help counter a high incidence of child malnutrition in Kulmasa and the surrounding villages.
Image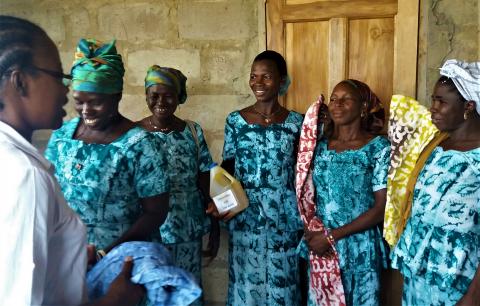 Image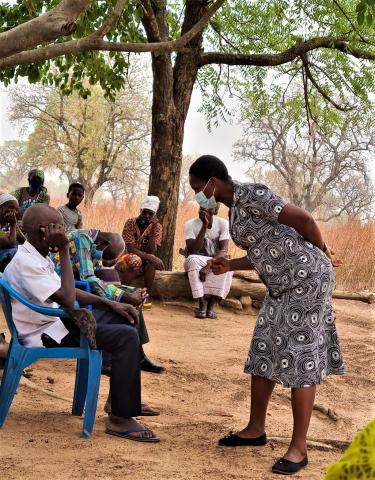 Image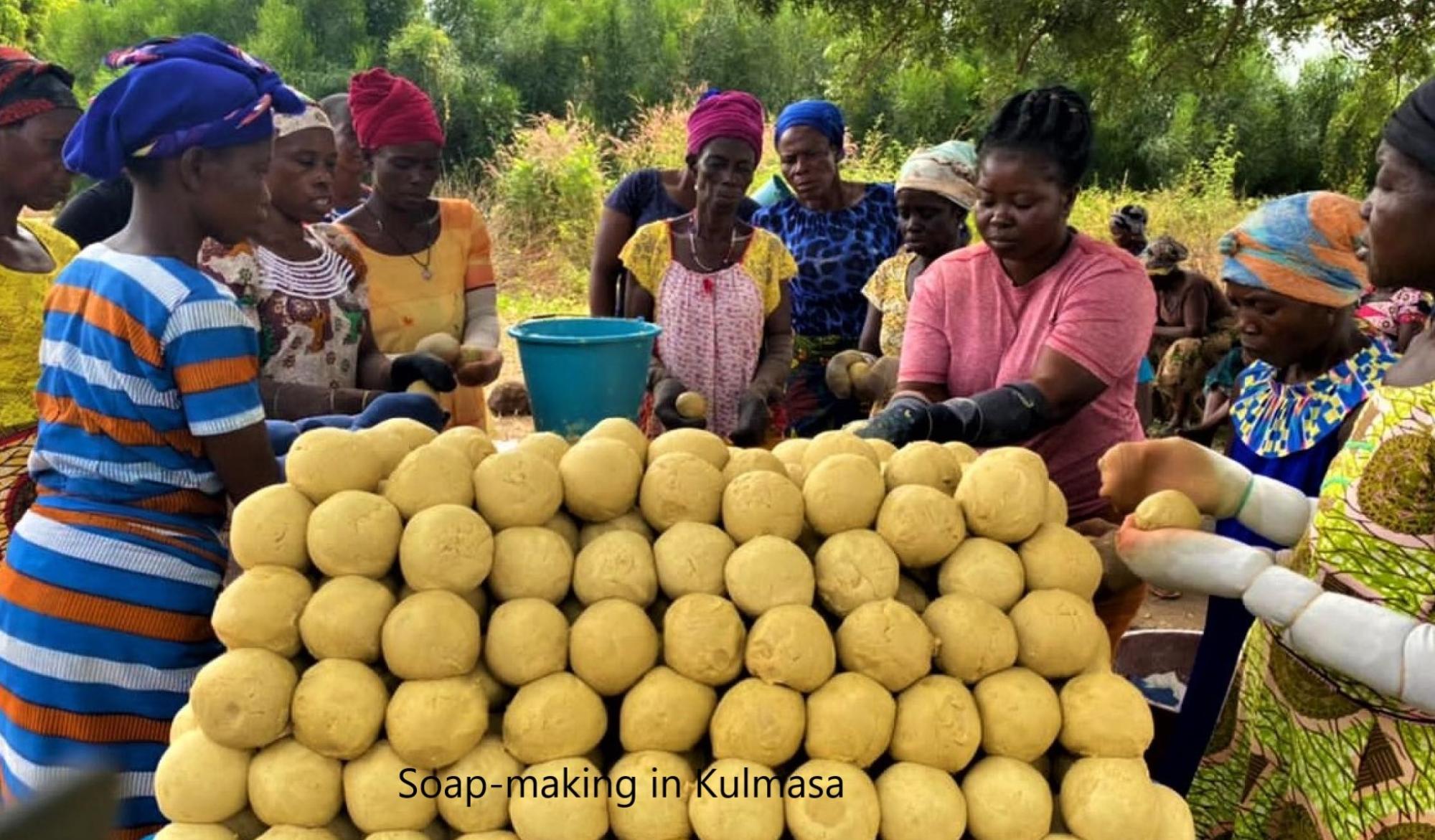 My Future Is In Your Hands
Listen to Sister Betty Nabuguzi singing one of her songs.
Educating and accompanying young people
Sister Florence Naamwanuru teaches biology at the St Francis Minor Seminary in Buoyem, Techiman Diocese.
She is passionate about youth formation and she accompanies many young people through counselling and guidance - as you can see below.
Image